DASU stands for "Didaktischer Arbeitskreis Schule - Universität" (english: (Didactic Working Group School - University" and is a joint project by the Leibniz University Hannover, the Lower-Saxony Board of Education and the Lower-Saxony Ministry of Education and the Arts.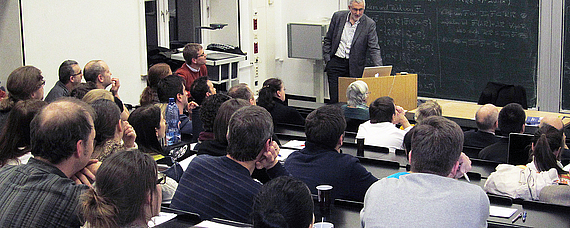 WHAT IS DASU?
Since 1999 the Workgroup organises annual symposiums aimed at teachers in university-track secondary schools as well as at staff of the university.
At these symposiums current topics of education at schools and universities are covered through lectures and subsequent discussions. These
are a forum for the introduction of concepts on goals, contents and methods of lessons at university-track secondary schools,

enable a connection between teaching methods and university input,

continuously provide new ideas for the planning of one's own lessons

offer the opportunity to establish new contacts between university students of teacher education for university-track secondary schools, colleagues in school practice and teachers at the university.
Whereas initially topics of mathematics were preferred, since 2015 there is also an annual symposium on the subject area physics.
All colleagues, lecturers at the university and students of teacher education for university-track secondary schools are cordially invited to all events and explicitly requested to make suggestions for topics of a symposium and to propose their own lecture suggestions!
DASU IS A JOINT PROJECT OF
The Leibniz University Hannover, (Herr Dr. Florian Leydecker),

the Lower-Saxony Board of Education (Herr Blasche-Hesse) and

the Lower-Saxony Ministry of Education and the Arts, (Frau Köppen-Castrop)