Creating a home for our teacher education
Prof. Volker Epping
With these words, University President Prof. Volker Epping summed up the commission that the architectural offices had received to design the new building for the Leibniz School of Education. In July 2017, the university management publicly presented the winning design of the architectural competition by architect Prof. Johannes Kister.
The foundation stone was laid on the 4,000 m² property in autumn 2020. Since then, the new building for teacher education has been under construction in the north of Hanover, in the immediate vicinity of the city centre, the Welfengarten and the university, where buildings mainly date from the second half of the 19th century.
In the design, particular attention was paid to the transition from the residential area to the university campus, so that this change is conveyed by the new building and at the same time blends harmoniously into the existing buildings. There were also high demands on the facade design due to the location of the building, the surrounding buildings are clad with red clinker on the one hand and plaster on the other. A red brick with red joints was chosen for the new building, which reinforces the sculptural plasticity of the building and blends into the street space. On the courtyard side on the ground floor, the building will have a concrete facade.
The building is scheduled for completion in the second quarter of 2023. The move-in of the facilities is planned for September 2023. Teaching will start in winter semester 2023/24.
In addition to the Leibniz School of Education, the Institute for Psychology (Faculty of Philosophy) and the Institute for Educational Science (Faculty of Philosophy) will also move into the building and shape the campus for teacher education.
Furnishing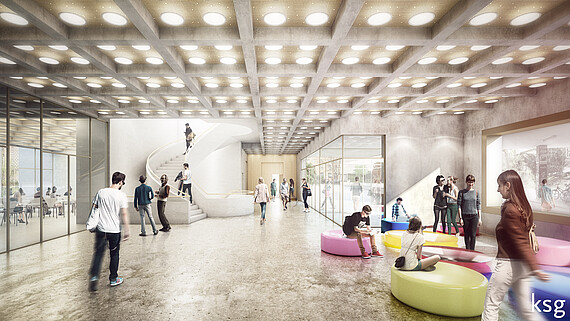 Inside area approx. 5,500 m²

1-2 study rooms with student workplaces on each floor (the building has four floors in total)

The study rooms should enable self-organized student learning a media laboratory for virtual lesson shadowing and in which students and institute employees can record and edit films and audio contributions (extra room)

Seminar rooms on the ground floor and floors 1-3 (each with 2 rooms), which are equipped with modern presentation technology

a modern lecture hall with approx. 250 seats

Ground floor foyer with lounge area including vending machine and lockers/lockers

parent-child room

gender-unspecific toilet for people with disabilities

elevator

Green outdoor area with various seating options

In the interior, especially for furniture, doors and facades to the atrium, materials made from renewable raw materials such as wood and wood-based materials were used.
More information about the LSE