The Gauß workgroup plus is a six month project course for the promotion of sixth form pupils. In the projects carried out, everything revolves around scientific and technical problems.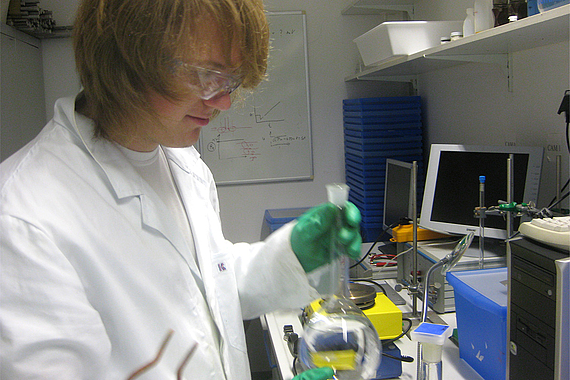 SHORT INFO
Target Group:
Sixth Form Students
Time Period:
The next course period takes place on request!
Place:
Small research groups work independently from home

Regularity:
The next course period takes place on request!
WHAT THE GAUß WORKGROUP PLUS IS ABOUT
In cooperation with different scientific and technological institutes of the Leibniz university Hannover, uniKIK conducts six month long scientific project courses with sixth form pupils.
This project is all about scientific and technological problem solving. In addition to the aim of attracting young talent, Gauß-Workgroup plus makes scientific and technical developments tangible for pupils and introduces them to scientific work.
The gauß-Workgroup plus is an extracurricular offer, which the pupils can attend next to their regular lessons, in order to gain a deeper insight into a field of research.
Together with professors or research staff, the participating students form a research team that deals with a scientific topic for approximately six months. The participants work mostly independently in groups of 2-5 pupils and present their results to the team at regular intervals.
There will also first be a two hour workshop as an introduction to the work, in which available sources will be shown, the topic will be discussed and the project start date will be determined. The goal of the pupil groups will be the production and presentation of work during the schoolday(link), which will include prizes to promote further studies.
i) the next course periods starts upon request
You are interested in doing scientific work alongside school and would like to spend six months doing research in a small group? You are alone or have already assembled a small research team (3-5 people)? Then get in touch with us! We look forward to finding a suitable offer for you!
The Gauß Workgroup plus is also available as a female project: Einsteins' granddaughters
LAST COURSE PERIOD
Faculty of Electrical Engineering and Computer Science - Institute of Measurement and Automatic Control

Characterization of a system for the three-dimensional measurement of objects

What is it about?

During the production and use of machine components, it must always be ensured that they function and last long enough. An important aspect here is the geometry, or rather the outer form. Components that show deviations here are often not manufactured with sufficient precision or are already worn out. One way to check this is the laser triangulation method and the fringe projection. Here one or more laser lines are projected onto an object. Using camera images, the geometry of the object can now be calculated and compared with the target values.

Faculty of Electrical Engineering and Computer Science - Institute of Energy Supply and High Voltage Technology

Use of a mobile fuel cell to operate a model landscape

What is it about?

The use of the earth's fossil resources (such as mineral oil, glance coal and lignite) forces mankind to resort to new energy sources. In this project, you will take a closer look at a technology in which an electric current can be generated using only hydrogen and oxygen - a form of energy that you as a human being can make excellent use of. As a product of this process, besides the electric current, another product is created: water. The headline already gives you a hint that this can only be the technology of the fuel cell. A technology that this project is intended to show you!

Faculty of Mathematics and Physics - Institute of Quantum Physics

"Properties of Radiation fields: LED

What is it about?

Radiative recombination processes in pn junctions have led to a small revolution in lighting technology with the development of LEDs and have even earned a Nobel Prize in Physics.

This offered project has the goal of systematically examine the properties of the radiation fields resulting from radiative recombination and check theoretical model predictions: fluctuation behaviour, statistical properties, usability in information transmission.This canon should be understood as a minimum-canon.

Additional interesting fields of investigation, which develop during the work, are explicitly not to be excluded.

The experimental organisation does not necessarily have to take place at the university. The good availability of most of the equipment, the low laboratory requirements (darkness) and the extremely low hazard potential allow experimental work to be carried out at home or at school, provided that the necessary preparations are made.
QUESTIONS ON THE GAUß WORKGROUP PLUS?
Address
Welfengarten 1
30167 Hannover